Private group tours are available for all ages, for schools, for community organizations, and for companies and corporations. To request a group tour, please fill out the online form and a CAM representative will contact you to confirm your specific tour schedule and requirements.
Reservations are required a minimum of two weeks in advance of the desired tour date. Tour groups are limited to 30 visitors.
For additional information about tour types or to change existing tours, please email tours@camstl.org or call (314) 535–4660.
Request a Tour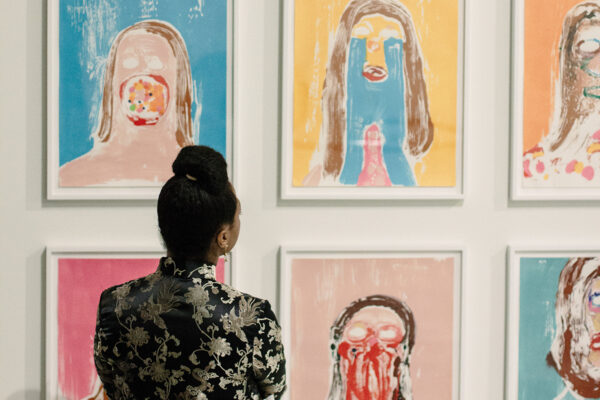 Audio Tours
Take your own self-guided tour of the exhibitions while listening to our audio tours on your mobile device. Hear directly from the artists and curators about the works on view.
Visit our front desk to learn how to access audio tours. Headphones are also available for checkout.
Spotlight Tours
Learn more about an individual work or series whenever you visit. CAM Visitor Services Associates would be thrilled to shine a ten-minute spotlight for you, anytime. Just ask!
First Friday Tours
Enjoy an evening of art, music, and culture in Grand Center the First Friday of every month. At CAM, take a free tour at 6:00 pm to explore the exhibitions in depth, ask questions, and learn more!
Stroller Tours
Stroller Tours are designed especially for parents, caregivers, and their little ones (best for infants to 24 months). This guided tour allows you to enjoy art and conversation without the anxiety of a fussy infant. Crying babies welcome! Tours last approximately 45 minutes and are available the second Saturday of every exhibition month. Please check the calendar to confirm specific dates.
CAM tours are generously supported by
The Strive Fund.
CAM Tours are generously supported by The Strive Fund. Lifelong Learning Tours are presented by PNC Arts Alive.