Arlene Shechet has created artwork with a variety of art materials. Although she has concentrated on ceramic sculpture for the past decade, she hasn't let this prevent her from experimenting with other art forms. The 'flat sculptures' consist of layers of colored paper pulp layered over molds made from objects around the artist's studio. In some cases, the molds are of the artist's own hand and finger marks in clay. Shechet sees these pieces as records of her studio practice on and in paper, or as she says, "pentimenti of my sculpture-making process."
Follow along with the steps below to make your own paper sculpture using homemade papier-mâché layered over or under cardboard of different shapes!
Download PDF instructions here.
Materials:
one large piece of cardboard (9 x11 and or larger)
smaller pieces of cardboard shapes (can be recycled material like cereal boxes or food packaging)
scissors
papier-mâché (newspaper, flour, water)
glue
paint
tissue paper (optional)
Instructions:
Step 1: Cut large piece of cardboard.
Step 2: Take excess cardboard and cut simple shapes such as squares, rectangles, triangles, and circles.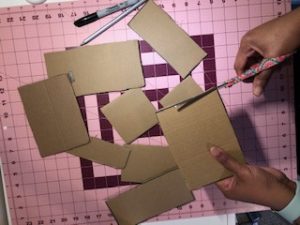 Step 3: Glue down shapes on large cardboard.
Step 4: Make papier-mâché. Tear or cut newspaper beforehand. Mix 1 cup flour, 1 cup warm water, 1/2 tbsp. of salt. Smooth out mixture. Dip newspaper pieces into mixture.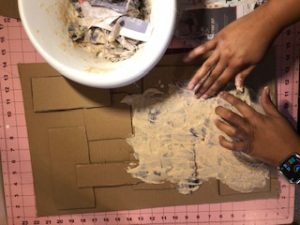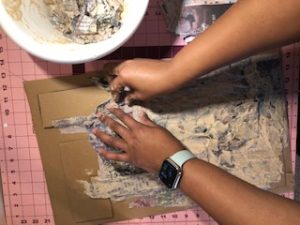 Step 5: Apply a layer of papier-mâché all over, pinching and folding to accentuate edges of the cardboard shapes underneath. You can also add tissue paper to add color and texture. Allow to dry.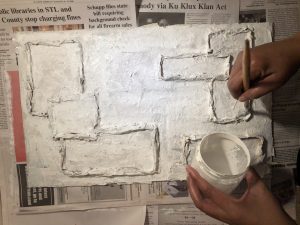 Step 6: Add details and colors with paint. And voila! Don't forget to show off your finished artwork on social media and tag CAM.